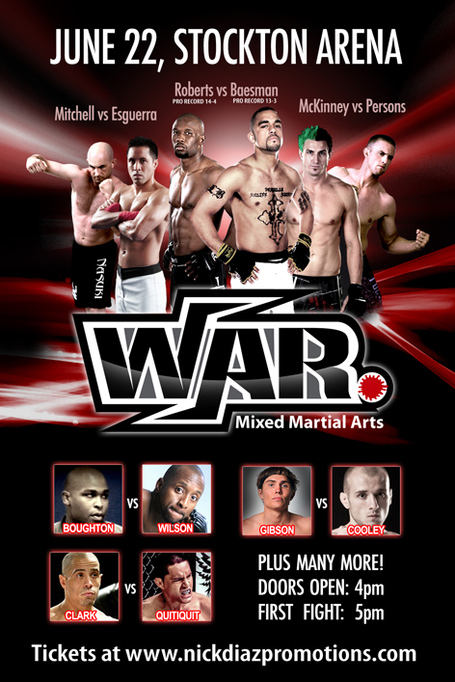 Does anyone remember that time when Vince McMahon tried to start the XFL?  If not, google it and thank me later, it was a crazy time.  For those who don't know, remember or who spent years in therapy trying to forget, the X in the name was intended to stand for Xtreme.  Which meant Xtreme athletes, Xtreme cheerleaders, and Xtreme fans.  The organization even pitched itself as football "without the rules" (and without the viewers, heyo!!!).  Semantics aside, it seemed like an interesting attempt to deviate from the norm... that crashed and burned into a terrible death.
Nonetheless, it was an attempt to give the fans something different.
So when it was announced that everyone's favorite MMA villain, Nick Diaz, was going to put on his own fighting organization, I had an XFL-like flashback.  And despite my love for all things UFC and MMA, I tend to be somewhat skeptical of new organizations popping up.  But this time I allowed myself to say, "screw it," Diaz is behind it, so, at the very least, it has to be entertaining.
Right?
Five hours and six minutes of OnDemand replay later, I feel exactly the same way I did after watching my first XFL game; a little bored, a little used, and maybe just a little confused.  Much like the XFL, the minimal adjustments brought nothing more than a variation of the same kind of product we're used to seeing elsewhere — only with less talented players involved.  And much like how the XFL's competitors looked like an NFL practice team, WAR MMA, presented by Nick Diaz featured a set of new mixed martial artists who were given the spotlight for the first time.  While I don't fault them for taking advantage of the exposure (a few of whom managed to produce a couple of really fun fights throughout the evening), I guess I was just surprised that Diaz was behind the start of a shockingly normal fight promotion -- and maybe that is there where the disappointment lies?
With my admitted bias out of the way, now on to the event:
So turns out all you had to do to watch the fights was to head over to the subtlety titled www.NickDiazPromotions.com, where TJ De Santis and Javier Vasquez were calling the action.  The five hour event featured 12 fights and, sadly, not a single high power knockout to show for it.  In fact, only two of the 12 fights were decided by the fighters in the ring.
Do I personally suggest that you stop reading this now and head over to www.NickDiazPromotions.com?
Well, that depends on if you magically have five hours and thirty minutes of free time (five to watch the fight and thirty to read this article then send it to every person you can think of in the world), then definitely!  If you don't, keep reading and you'll get the gist.
Lets start with what was different about the fights. First of all it was in a ring, not a cage.  If I'm allowed to get on my soap box for a minute: May I just say, there is a reason most major MMA organizations use a cage?  It's because it works better.  The cage allows for body position and continued striking in a way that a ring does not.  Fighters just kept getting caught up in the ropes and occasionally kept the dominant fighter from continuing to hold dominant position.  Granted, not in a way that would have saved Diaz in his last few decisions, but rather in a distracting, "is this still happening" kind of way.  I, like any boxing fan, will always hold the ring with some regard, it's just not my sort of thing when it comes to MMA.
The next difference was the banning of elbow strikes from the ground.  Essentially when a fighter is grounded, no throwing any bows (suffice to say, Jon Jones is never fighting for WAR MMA, presented by Nick Diaz).  Diaz says this is to keep people from stalling in a top position.  From his perspective, too many referees see someone throw an elbow and count that as being active from the bottom.  My comment after watching 12 fights of which eight went the WHOLE 15 minutes?  Not a huge difference.  In fact, had I not looked up the rules earlier, I probably wouldn't have even noticed.
Final difference, and, in my opinion, the smartest thing this promotion did, they opened up a livestream option and gave people the ability to donate what they wanted to watch the fights.  I love that they did this!  Had they asked for a set amount, I probably would have skipped watching the event altogether.  Opening it up for the fight community to pay what they wanted after watching the fights is a very cool and modern way of promoting an event that's just starting.  This also leads into my favorite sidebar in writing this article.
SIDEBAR BEGINS: My Verbal Tap co-host, Raf Esparza, tried to watch the livestream of the event Saturday night, but paypal wouldn't let him put in zero dollars as a donation (they will, however, let you put in $ 0.10 FYI).  So he pulled a genuine Nick Diaz and said, "well, fuck this (his exact words)." In a weird way, shouldn't Nick Diaz have no choice but to endorse Raf's emotional outburst as familiar?  I mean, we are talking about the only fighter i can think of in recent memory to get fired from a UFC Main Event Card for missing "media obligations?"  I like to think Nick Diaz smiled a little as Raf said the F'word -- but I have not been able to confirm that with any sources close to Nick Diaz.  SIDEBAR ENDS, REVIEW CONTINUES.
Okay, we've genuinely covered all of the differences.  Now onto the fights!
Fight 1: Aziz Rashid vs. Derek Brown.  For some reason both fighters didn't know they were fighting at 140, so they came in at different weights (139, and 145) because... why not?  The color commentary guys did a good job chalking it up to a new promotion blunder, but here's my question: have people heard of that before?  Is that a normal thing?  Because in my personal fight watching career, that's a first.  So if I ever fail to make weight I can just chalk it up to being around a new promotion?  Good to know.  Having said that, it was a fun fight that went the distance and Brown won via decision.  There was a screwy ref decision during this fight (the first of many), but suffice it to say the guy who refereed these fights enjoys rewarding people who break the rules by taking them out of a bad position (yeah, I know that's vague, it was really hard to understand while watching live, even the commentators just sort of laughed it off).
Fight 2: Powell vs. Ortega.  These two light heavyweights brought the pain, but the fight went the distance and Ortega won via Split Decision.
Fight 3: Hamilton vs. Adona.  The win in this fight should go to the "ringside doctor," but, by default, went to Adona.  He ended the fight because of a not very bad cut on Hamilton's eye.  It wasn't the doctor's only win of the evening.  Stay tuned.
Fight 4: Tatum vs. Cabezas.  All you need to know about this fight was that at the end Tatum threw his mouthpiece into the crowd... and they threw it back!  Hilarious!  Tatum won the fight by decision, but it was genuinely one of the weirder fights I've ever seen.  Tatum appeared to be able to end the fight about 12 times, but just didn't.  My sincere thanks to the crowd for both boo'ing him and returning his mouthpiece.
Between Fight 4 and Fight 5: WE SEE NICK DIAZ (as presented by War MMA, presented by Nick Diaz!)!  He's bald, wearing a suit, and appears to be doing his best Dana White impression......NOT!  But wouldn't that have been hilarious? (I'm here all day, folks!)
Fight 5: Marsh vs. Fortuna.  FIRST SUBMISSION OF THE NIGHT ALERT!  Fortuna submits Marsh early with a baseball choke.  The announcers kept calling it a side choke submission (I'll be sure to verify with my instructor/black belt), but I am pretty sure it was a modified baseball choke.  Either way, sweet move from Fortuna and the highlight of the night in my opinion.
Fight 6: Quitiquit vs. Clark.  2 and 0 goes the ringside Doctor!  He ends the fight, giving Clark the win due to a moderately-sized cut on Quitiquit's eye.  The cut wasn't even bleeding when the fight was stopped.  It was a genuine shock to everyone in the stadium and the dozens upon dozens of people watching around the world.
Fight 7: Boughton vs. Martinez.  WE HAVE A VERBAL TAP!  Boughton wins by toe hold 20 seconds into the fight forcing Martinez to Verbally Tap Out!  Thanks to these guys for the ringing endorsement.
Fight 8: Cooley vs. Gibson. Cooley lost a point for passivity (the first real Diaz enjoyed moment of the night; also, is that a word?).  This was a weird fight.  Cooley kept trying to pull guard, Gibson kept striking.  Finally late in the third, Cooley pulled guard as Gibson was throwing a punch and the ref just called a TKO.  It's unclear if the NBA has fined Cooley for flopping, but either way it was a weird end to a not so great fight.
Fight 9: Hays vs. Linderman.  Linderman takes it by decision.  There, I just saved you 15 minutes of your life.
Fight 10: McKinney vs. Persons.  Great exchanges, fun fight, Clayton "MONEYSHOT (if you say so)" McKinney wins by unanimous decision.  Lets now spend 4 paragraphs theorizing how he got that nickname — even if I'm almost positive Raf will cut these paragraphs in post-editing... sorry in advance (Raf's Editorial Note: I did and I'm not sorry).
Fight 11: "Evil" Evan Esguerra vs. Calev "The Machete" Mitchell.  A back and forth war that "Evil" pretty much controlled from start to finish.  He won via Unanimous Decision, but Esguerra was genuinely throwing HUGE bows till the very end.  Impressive fight from both guys, easily fight of the night.
Fight 12: Daniel Roberts vs. Justin Baseman.  Close fight that went to Baseman in a 2-1 decision.  Not a great fight, but a close one.
That does it for WAR MMA, a Nick Diaz Promotion (they must have said this tagline 75 times).  All in all, I recommend this event if you're in Stockton, CA (they've even talked about the idea of moving to a new location on Twitter, more on that as it becomes available).  The announcer was okay, the commentary guys were great, and the fights were still fights, which means they were exciting.
Now lets see if Nick Diaz can keep it together for the inevitable sequel: " WAR 2: What Is It Good For (Absolutely Nothing)."
For a link to MMA Fighting's excellent twenty two minute documentary on the behind the scenes making of WAR MMA, Presented by Nick Diaz, check out the following link.  Believe us when we say, you won't want to miss it!