VERBAL TAP (Episode 51) with Chris Leben
[buzzsprout episode='136326' player='true']
Raf's Recollection | When I had the chance to interview Chris Leben about a year ago, I was prepared for just about anything.
And I mean, anything.
At the time, I didn't know where the conversation would organically go or what kinds of topics he would be open to talking about.
As one of the longest tenured employees of the UFC (and one of the last original members of the Ultimate Fighter cast still actively fighting), we've been privy to the many ups and downs in Leben's life. Like any of us, Chris has his demons.  However, unlike most of us, he's had to battle a great deal of them in the public eye.
We've all seen the incredible fights.  We've witnessed the confrontations from the first season of The Ultimate Fighter. And we've read about the changes in training camps and heard about the struggles in his personal life.  It's all part of the Chris Leben narrative, and all very well-documented.
And yet, through it all, Chris has remained a fan favorite all of these years for his ability to walk into an octagon as both a showman and enigmatic fighter.
So when I talked with Chris Leben for the first time last year, I found myself pleasantly surprised by his willingness to talk about his past.  Chris doesn't hide behind it or cleverly find ways to get around questions revolving around it.  He tells you like it is: good, bad, and all that's in between.
On our latest podcast, we find that Leben is the same candid speaker who reveals how he could have improved the performance of his last fight and what you can expect in his fight against Uriah Hall at UFC 168.  It's a refreshing kind of honesty in a sport that can often be filled with excuses disguised as explanations.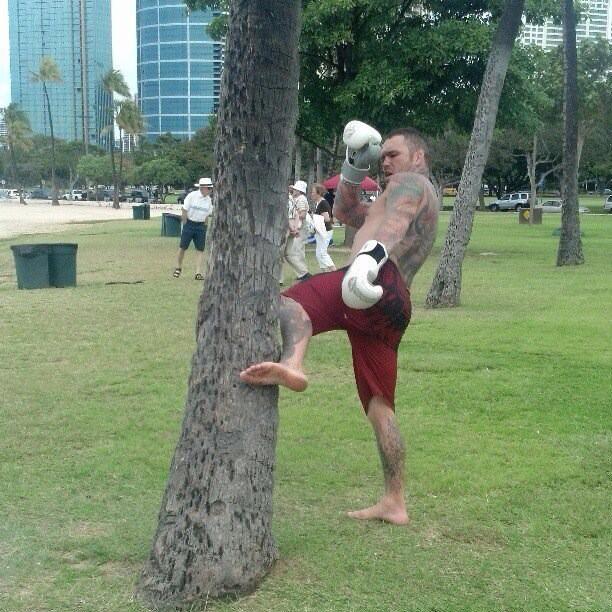 But, like any of our interviews, we get to bring out the funny in the fighter.  Chris gets some opportunities with us to joke about Frank Trigg, missed merchandise opportunities, and even former nicknames.
Aside from getting the chance to joke around more this time with Chris, I found the conversation a strong indication of an individual working to make good in their life.
You can hear how happy he is to be part of a new training team.  You can hear the optimism.  You can hear the hunger he has to be a stronger and smarter fighter.
It's a story we can get behind here at the podcast, as we will definitely be rooting for him come December 28th.
Bigfoot Silva vs. Hunt
So who thought this was going to be such a great fight?
Be honest.
On the podcast, we discuss our surprise.  And while Kevin tragically works his limited capacity for metaphorical language (he struggles several times during the podcast to come up with different ways of calling these guys "fat"), I think we do a decent job at capturing our relative surprise at how good this fight  actually ended up being.
We're not really sure what this means for the division (or, frankly, even if we'd want to ruin what we saw by seeing it again in rematch form), but we elaborate some of our favorite observations from the now classic Heavyweight match-up.
Paul Walker
Kev and I take a few moments during the podcast to lament the loss of Paul Walker, specifically on behalf of the BJJ community.
It's been a story that's bummed out folks for good reason, and the tributes that have poured in for him from fellow BJJ practitioners and enthusiasts alike have been great to read.  We also slightly discuss the need for there to be new ambassadors of the sport who will pick up where he left off.
But Wait, There's More…
Also on the podcast, we talk to "GSP" about his upcoming press conference that he's holding on Friday afternoon.  That's right, Verbal Tap EXCLUSIVE.  GSP reveals what the hell is going on.
Is it a mall opening?  Is he just signing autographs like Dana White said?  Does he have some kind of marketing scheme up his sleeve?
Tune in to find out!
Seriously, don't forget to leave us a review and rating (5 stars!) on our iTunes page. Just look for Verbal Tap Cast
We've really been gaining some momentum the past few months and want to start making an even bigger presence on our iTunes page.
So be a pal, click the link HERE, press find in iTunes and then leave us a cool rating and review.  We love the feedback, as it helps us make an even better Verbal Tap podcast for you all.  Thanks much in advance!